Activities
Stroll or shop in Saint-Malo's Old Town inside the city walls, or practice sports such as sailing, tennis, windsurfing or simply swimming in the sea. Les Thermes Marins is a popular spa located just off the beach, where you can bathe in warm seawater.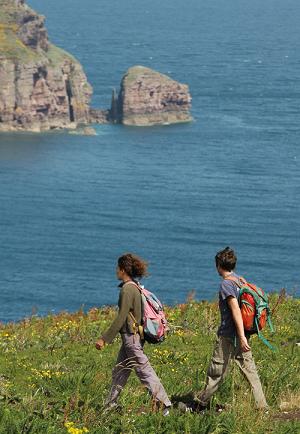 Brittany is famous for its crepes and galettes. Crêpes are sweet and are made of wheat flour while Galettes are made of dark flour and their fillings can be anything from fried eggs to scallops. A visit to a creperie is a must and for the beverage be sure to try the local cider.
Nearby, there is the fishing town of Cancale with its famous oyster farms. A simple way to enjoy this delicacy is to buy half a dozen directly from farmers and eat them sitting on the beach.
There are plenty of walking paths along the coasts. But pay attention to the tide! Saint-Malo has the biggest differences between high and low tide and what in the morning is a lovely sandy beach can in a a few hours disappear under water.
For those interested in culture, there are plenty of churches, castles and manor houses, referred to here as "Malouinières". They were built, in Saint-Malo-area, by Corsairs, that is, by privateers that, on the French king's behalf, engaged in what we today would call piracy. It's not for nothing that Saint-Malo is still today called "The Corsair City".
There are many concerts, as well as traditional breton dances during the summer.